As states and teachers continue to align their curriculum and revamp their strategies in response to the Common Core State Standards Initiative, they face the challenge of designing instruction that is equal parts more rigorous and engaging. With many states implementing new, CCSS-aligned exams like PARCC and SmarterBalance in the spring, ALL students will be tested: this poses a special challenge for special educators, especially those working with students who have the most significant needs.
Roughly 1% of students with the most significant cognitive impairments are eligible to take alternate assessments in lieu of traditional state testing (e.g. SmarterBalance and PARCC). Like state-wide exams, these alternate assessments will soon be aligned with CCS; which means that our IEPs will need to be as well. So the question becomes: How do we develop a curriculum and write an IEP for our students with the most significant needs that aligns with the principles of rigor and engagement behind CCSS?
As special education teachers, our focus is always on the individual student: "What does this specific student need?"
Research already shows that standards-based individualized education plans are more meaningful and measurable; the challenge is adapting CCSS for the needs of the 1% students who qualify for alternate assessments. The majority of states have adopted standards developed by leading organizations like Choosing Outcomes and Accomodations for Childen (COACH), The National Center and State Collaborative (NCSC), and Dynamic Learning Maps (DLM).
Alternate Achievement Standards
Group/Organization
Standards
Grade Clusters
States Adopted
Choosing Outcomes & Accommodations for Children (COACH)
Academic Access
Applied Academic
COACH created their own set of "Functional" Academic standards for K-12. These standards are not grade specific.
National Center and State Collaborative (NCSC)
Core Content Connectors
Grade-specific and aligned to Common Core State Standards (CCSS)
Arizona, Connecticut, District of Columbia, Florida, Georgia, Indiana, Louisiana, Massachusetts, Nevada, New York, North Dakota, Pacific Assessment Consortium (PAC-6), Pennsylvania, Rhode Island, South Carolina, South Dakota, Tennessee, Wyoming
Dynamic Learning Maps (DLM)
Essential Elements
Grade-specific and aligned to Common Core State Standards (CCSS)
Alaska, Illinois, Iowa, Kansas, Michigan, Mississippi, Missouri, New Jersey, North Carolina, North Dakota, Oklahoma, Utah, Vermont, Virginia, Washington, West Virginia, and Wisconsin
These standards are helpful for guiding educators, but we're still faced with difficult standards that vary across all subjects and grade levels. It's still very challenging to develop an individualized plan for success – particularly one based on a specific student's current level of performance that also addresses the barriers he or she faces to learning.
As special education teachers, our focus is always on the individual student: "What does this specific student need?" This is a question we ask ourselves constantly, with every activity (planned or not), for every student. By using Goalbook's alternate assessment goals,  it is easy  to develop meaningful, individualized IEP goals that look at a student's specific needs while aligning to CCSS to ensure our students have fair access to state curriculum and assessments. Goalbook Toolkit offers meaningful, relevant support for teachers, allowing them to easily adapt their teaching to meet the needs of our students with the most intensive supports with researched-based interventions and specialized instructional strategies that provide:
Attention Support
Visual Support
Hearing Support
Physical Support
Expressive Language Support
If you're not signed up for Goalbook Toolkit, you can register for a free 30-day trial or see what a sample goal page looks like here: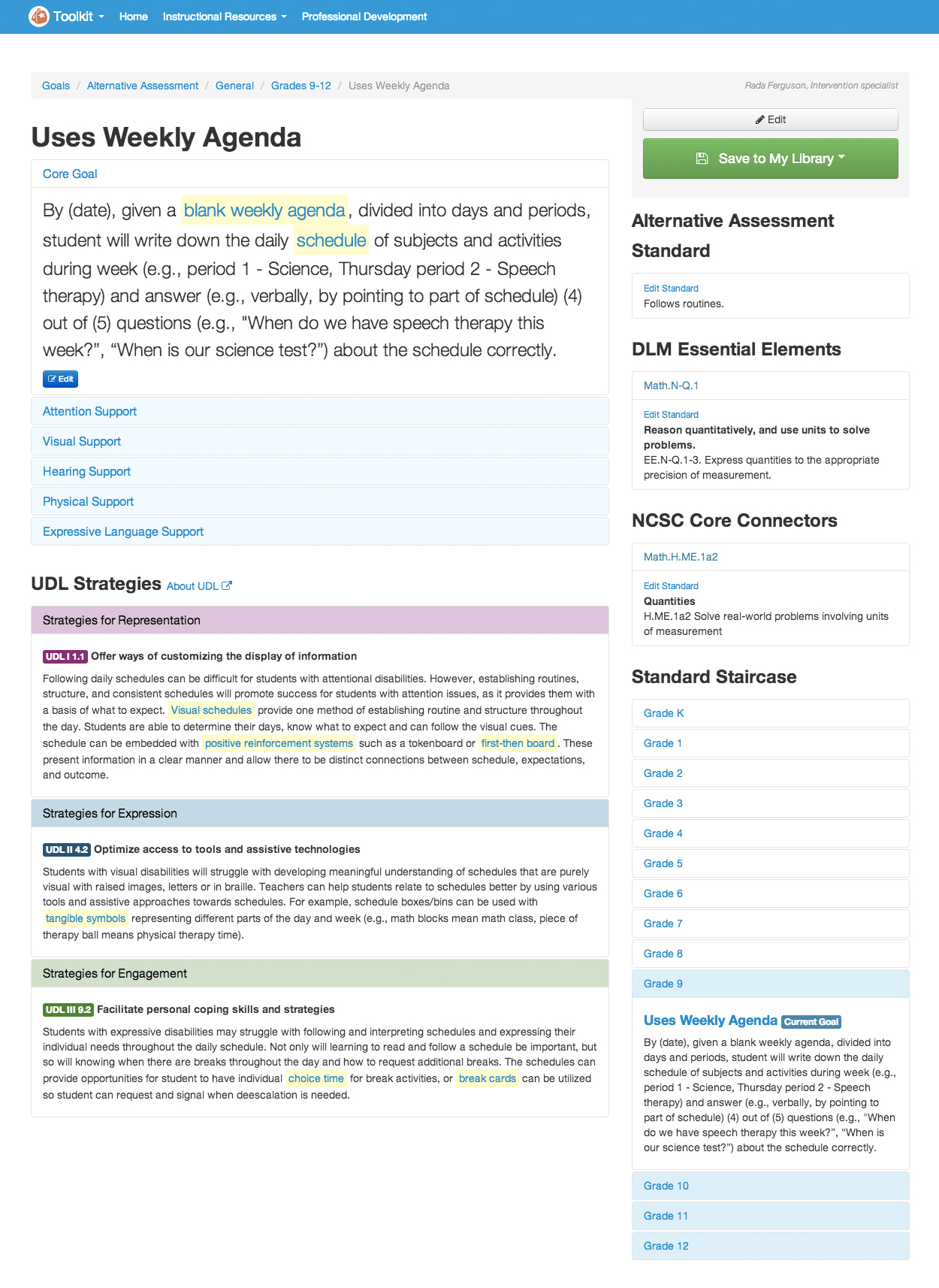 Further Reading:
Choosing Outcomes and Accommodations for Children: A Guide to Educational Planning for Students with Disabilities / Edition 3